Weda B680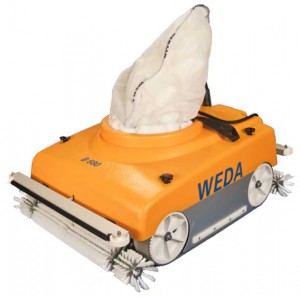 For larger commercial and 50m Olympic pools.
The Weda B680 automatic pool cleaner is based on the ever popular B600 enabling the rapid and efficient cleaning of both indoor and outdoor swimming pools.
After celebrating its 30th anniversary, the Weda B600 continues to remains the most powerful cleaner available on the market (72m³/hr).
This powerful suction, makes it possible to operate the machine on vertical walls. A feat that must be seen to be believed!.
The rotating brush system scrubs dirt from the bottom of the pool which is then removed by the powerful pump.
Alternatively, the B680 can be equipped with a discharge hose for direct connection to a separate filter system
Our standard floating umbilical cable length is 40 metres to enable cleaning pools of 50 metres plus.
Two speed drive (0.2m/s and 0.4m/s), brush scrubbing width of 600mm and radio remote control & timer functions as standard, allowing for manual spot cleaning and/or automatic unattended cleaning overnight.
Available for use with 3 phase 415v 50Hz AC power supply only, with the cleaner operating voltage being 42v for maximum safety.
All Weda cleaners meet the demands of the EC declaration of conformity for machines and electrical equipment.
This is warranted by the CE mark.
Technical Data
Weight in air: approx. 49 kg
Weight in water: approx. 5 kg
Dimensions: 860 x 600 x 700 mm
Suction width: 600 mm
Suction capacity: 1200 litres per minute
Variable speed: 0,2 and 0,4 meters per second
Speed in automatic mode: 0,2 meters per second
Mains voltage: 3 Phase 50Hz 400v
Operating voltage: 42v
Power consumption: 2.5 Kw
Manufactured in Södertälje, Sweden