Weda W50R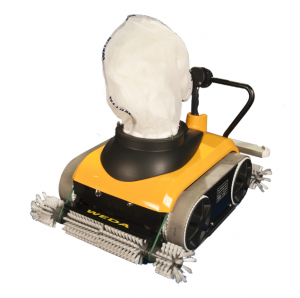 The Weda W50 is a small and feature packed pool cleaner for high capacity automatic cleaning.
Thick rotating brushes front and rear, coupled with a high performance 600 litres per minute pump ensure a thoroughly consistent clean.
Equipped as standard with radio remote controls for automatic and/or manual cleaning, enables easy access to those hard to reach areas for quick spot cleaning.
Fully integrated laser sensors ensure automatic cleaning which identifies obstacles and the cleaner is automatically steers away.
The W50R is easy to use with the minimal of settings.
Weda pool cleaners are precision engineered from aluminium and stainless steel, with each cleaner using a wear resistant metal impeller.
Available for use with single phase 230v & 110v AC power supply.
All Weda products meet the demands of the EC declaration of conformity for machines and electrical equipment.
This is warranted by the CE mark.
Technical Data
Weight in air: 28 Kg
Weight in water: 12 Kg
Dimensions: 650 x 500 x 300 mm
Suction width: 500 mm
Suction capacity: 600 litres per minute
Speed: 0.2 metres per second
Mains voltage: Single phase 230v & 110v
Power consumption: 1300w
Manufactured in Södertälje, Sweden